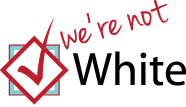 Arab-Americans need a box on the US Census Form!
Join the Facebook Page
Follow Amer Zahr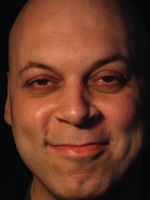 amer@amerzahr.com
America's Funniest
(& Smartest) Arab
كذبة بيضاء عن الموت الأسود
قلت لصغرتي يوماً اننا لن نموت وأن حياتنا على الارض أبدية. ابتسمت بارتياح بعدما اربكها كلام رفيقتها التي اخبرتها بأننا جميعاً سنزول. ارتاحت صغيرتي فيما أنا ارتبكت. ارتباكي اعادني إلى حيث اخشى الذهاب، ارتباكي اخذني إلى حيث لا اريد. فأنا لم اتصالح مع الموت بعد، فكيف لي أن أهيء صغيرتي لتقبل ما أرفض؟ رحل لي القليل من الأحبة، قلة قليلة ولكن كافية للتمرد على فكرة الزوال، قلة قليلة ولكن مربكة إلى حد الهروب من عيون صغيرتي الحشورة. رحل لي احبة على غفلة، ودعوا شبابهم قبل الاوان ومشوا مكرهين وبقيت وحدي استغرب فراغ الأحبة وقلة وفائهم. كيف لهم أن يرحلوا؟ كيف سقطوا مني وتسربوا بسلاسة إلى حيث لا يعود من يرحل؟ مع كل رحيل يغدو الموت اصعب وتصبح إمكانية تقبله اكثر إستحالة. قد لا احسن الاجابة على سؤال صغيرتي قريباً، وسأظل إخترع لها قصصاً عن ازلية عائلتنا علها تجد فيها بعضاً من الأمان الداخلي الذي يبعثره فراق الأحبة كلما مشى احدهم. لن تنجح ثورتي على الموت، ولكن يجب أن أتصالح معه كي أعيد بناء ما تهدم وكي أجيب على اسئلة طفلتي بجرأةٍ. سأتصالح مع الموت يوماً ما وسأكون عندها جاهزة للرحيل ولكن إلى أن يحين وقت الذهاب سأبقى أخادع طفلتي وسأمحو من بالها ما علق منه في بالي.
*
Haifaa Mrad (هيفاء مراد) is Arab-American immigrant working as a teacher in Michigan. She looks forward to her morning Arabic coffee time while reading the news!