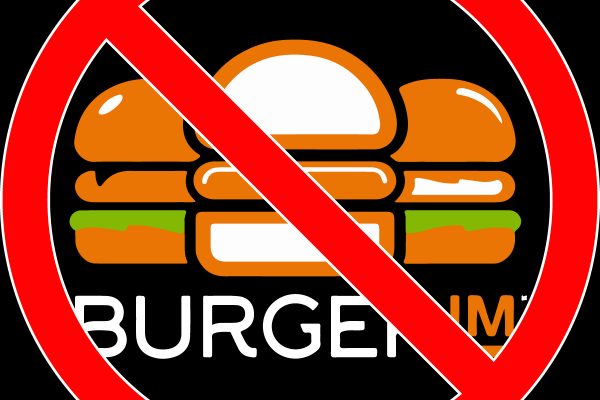 I've been posting and talking about Burgerim for some time now, urging everyone to boycott this burger franchise. In fact, I even got the attention of Burgerim's attorneys, who sent me a cease and desist order a couple months ago. Needless to say, it didn't work. I'll get back to more of that later.
Burgerim was founded in Israel, by an Israeli. Its first location was opened in Tel Aviv and still stands there. Its current CEO is Israeli. Also, no evidence exists that this Israeli-founded, Israeli-run company or officials have ever publicly expressed either anti-Zionist sentiments or support for Palestinian equality and rights.
Now, it may be technically true that the US operations no longer have a formal, legal connection to the Israeli operations. But, of course, there would be no American Burgerim if there were no Israeli Burgerim, which proved the concept, showed market success, and imported the idea and CEO here to America. A change of address doesn't erase its ugly history.
Let me put it like it like this. If Burgerim USA were applying for a loan, Burgerim Israel would be it cosigner and chief personal reference.
Of course, Burgerim's rise was performed on stolen Palestinian land, supported by the same state that is responsible for millions of Palestinian refugees, daily home demolitions, the denial of civil rights to non-Jews, indiscriminate bombings of Palestinian neighborhoods, the jailing of Palestinian children, and more.
Maybe all of that is enough for you to boycott Burgerim. Maybe it isn't. But those are the facts. And there's a lot more.
In the letter I was furnished by Burgerim's attorneys, I was informed that "the truth is that Burgerim is not involved with Israel or any Israeli company whatsoever."
If that were true, we probably wouldn't see media outlets everywhere gushing about the connection.
A newspaper in Westchester, New York describes the company as "Israeli-based." (May 23, 2019)
The Reno Gazette Journal profiles a new location opening there, tellings its readers that, "Burgerim was founded in Israel in 2011." (June 7, 2019)
From the San Francisco Chronicle: "Israeli burger chain may soon outnumber In-N-Out locations in the Bay Area." (May 20, 2019)
A New Jersey-based websites describes Burgerim as "a burger franchise that first started in Israel." (June 5, 2019)
In the Sacramento, California area, a publication lets its readers know that they can now enjoy "the Israeli burger restaurant" without "a trip to Tel Aviv." (March 22, 2017)
San Antonio, Texas: "New Israeli burger chain Burgerim now has 3 San Antonio locations"
Richmond, Virginia: "Short Pump is getting an Israeli mini burger restaurant"
Los Angeles: "It's a mini burger party at Burgerim, a new Israeli burger chain in Hollywood"
The Franchise Times, a publication that dubs itself "The News and Information Source for Franchising," told us just last October:
"This much is clear. Burgerim was founded in Israel… In 2011, Oren Loni, a serial franchisor, purchased the franchise rights from Tuchner [previous owner and founder] and started selling Burgerim franchises in Israel… and in June 2015 moved his family to Los Angeles to start developing the Burgerim brand here."
The above article actually reads as a warning to investors to stay away from Burgerim… probably good advice.
And if all this isn't enough, listen to Loni's own words: "Burgerim is one of the most exciting Burger concepts and I am very excited to finally be able to share it with all of America." Why is he "finally able to share it with all of American"? Because he brought it here from somewhere else, and that somewhere else is Israel. It's pretty clear.
And remember the "built on stolen Palestinian land" part I was stressing above? Burgerim's franchises in Israel carry the history of Palestinian suffering and dispossession.
One is in Karmiel in the north of Palestine. The lands of the Palestinian villages of Nahf, Bi'ina, and Deir al-Asad were expropriated by Israel to build Karmiel. Today, the settlers of Karmiel number almost 50,000.
Another is in Beersheba (Beer a-Saba'), the site of a planned 1948 invasion by Israel. Before that invasion, Beersheba was virtually entirely Palestinian, and had been for centuries. Afterwards, over 30,000 Palestinians were expelled, and the city was looted. In short order, the houses of those refugees were "repopulated" by new Jewish settlers.
One Burgerim location is in an Israeli town named Yehud. Yehud was built on the ruins of al-Abbasiyeh, a Palestinian village depopulated in 1948.
Yet another one is in Caesarea, where Israeli militias forcibly evicted its Palestinians in 1947.
There's one in a city named Yokneam. That city is built on the lands of Qira, which was emptied of its Palestinians by Israeli forces in 1948 as well.
Burgerim sports a location in Kiryat Gat, which lies on the ruins of Iraq al-Manshiyya. This village was over 600 years old. Over 2000 of its Palestinian inhabitants were ousted in 1948.
You can get your Burgerim fix in Ashkelon, which Palestinians called Majdal Asqalan. As part of the Israel's "War of Independence," over 10,000 Palestinians were forced out in 1948. This Palestinian city was also repopulated by new Jewish settlers. Finding homes for them was easy. They were already there.
Go get a burger in Gedera. That Israeli city was built on the village of Qatra. There, Israel ejected 1400 Palestinians.
Don't forget to get extra cheese on your burger in Yavne. Palestinians used to live there, in their village of Yabne, until 5000 were kicked out.
Maybe you'd like a side of fries in Lod, which Palestinians still call al-Lidd. In 1948, 20,000 Palestinians were forcibly removed. Over 1000 were massacred. The few who remained were dispossessed.
Get a few sliders in Or Yehuda. This city lies where two Palestinian villages once stood. One was Kafr Ana, which saw its 2800 residents driven out. The other was Saqiya. Its 1100 Palestinians were evicted. Before 1948, the villagers in these twin villages grew crops and raised poultry and bees. After 1948, their ancestral houses were repopulated by more Jewish settlers.
And don't forget to enjoy your meal in Haifa. Over 50,000 Palestinians were shipped out of Haifa in 1948, becoming refugees in neighboring Arab lands and around the world, disconnected from hundreds of years of their histories.
(You can easily find these Burgerim location through a Google Maps search, like i did.)
Finally, visit Burgerim in Maale Adumim. Maale Adumim is a huge Israeli settlement of 40,000 located entirely in the occupied West Bank. Israel seems especially proud of this location, boasting about it through their Ministry of Tourism.
In their letter to me, Burgerim's attorneys warned me that my words have "incited others into action, resulting in damage to Burgerim's reputation and in people contacting Burgerim's franchisees to encourage them to break their contracts with Burgerim."
Good. That was my intention. That's sort of what boycotts are meant to achieve.
In short, Burgerim's lawyers are basically telling me that exposing Burgerim's relationship with Israel is damaging to the company's image. I couldn't agree more!
If you were waffling about Burgerim before, hopefully this is enough for you.
I ask you to join with Palestinians, when we say in a loud and united voice:
"Companies that built their success on the backs of Palestinian dispossession are not worthy of our business."
Who wants a burger that tastes like occupation anyway? #BoycottBurgerim